Engine Overhaul Process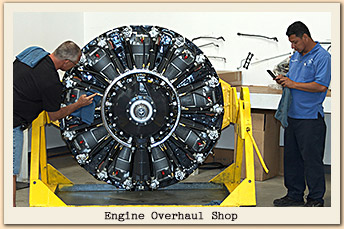 Project Start
Each engine project is assigned a work order number and a notebook is created to follow the engine through the entire restoration process. The notebook provides full details of each part's condition, measurements, repair work required, and who accomplished the work.
Disassembly and Cleaning
The customer's engine is completely disassembled and a preliminary inspection is made to assess damage, wear and corrosion.
After the inspection has been completed, all parts and components are thoroughly cleaned.
Parts Inspection
Critical parts are checked for integrity. Non-Destructive Testing (NDT) is performed to verify the integrity of critical engine parts prior to use. Non-magnetic parts receive a Zyglo inspection and steel parts receive a Magnaflux inspection.
In addition, all appropriate parts are dimensionally inspected for compliance with manufacturer specifications and a visual inspection is performed on all parts for any abnormalities.
Service Bulletins and technical notes are reviewed for applicability. A complete list of parts is made and those requiring repair work are identified.
Parts Repair
Most repairs can be accomplished in our shop, saving both time and money. All repairs are done within the manufacturer's specifications.
Accessories
Overhauled starters, pumps and ignition harnesses are kept in stock and provided for each engine overhaul.
Engine Assembly
Our experienced technicians assemble your engine and inspections are performed at various stages during the process. After the final inspection, the completed engine is ready to be test run.
Engine Testing
All engines are test run for a minimum of 4 hours at regular power increases to allow critical components to break in and to ensure it meets performance standards. After the testing is complete the engine is ready for final inspection prior to shipping to the customer.